COVID-19 UPDATE NEWSLETTER
Kia Ora and greetings to our school Whanau.

We hope that your 'bubbles' are safe and comfortable during this lockdown period. The well-being of your young people is always at the forefront of our minds, and we hope that our students are able to navigate their way safely through these unsettling times. To offer more clarity with what the remainder of the school year will look like, we have prepared this newsletter for you.
Alert Level Three:
On Wednesday 1 September we will offer supervision for the students of our Essential Workers who are unable to find suitable care arrangements. Please complete the form on the following link if you need to use this service. Please keep an eye on our school Facebook page for up-to-date information regarding alert levels and school announcements. The page is "Tokoroa High School Official".
https://forms.office.com/r/kkHdPm30Mc
Online Learning:
We have a set timetable that we are operating online that can be found on our Facebook page. Students should log into their Google Classroom for each subject and there they will see what the schedule for that session involves. This may include a Zoom hui, individual learning or Education Perfect Activities. Any device can be used to access this learning. If you are unable to access learning online, we may be able to provide you with paper materials to study from once we move to Level Three.

Change of NCEA Examination Dates:
The Government's assessment body, NZQA, has made the decision to postpone the start of the national exams, therefore the NCEA Exam dates are 22 November to 14 December 2021. Please follow this link to see the scheduled exam dates.
https://www.nzqa.govt.nz/ncea/ncea-exams-and-portfolios/external/national-secondary-examinations-timetable/

Derived Grade Exams:
To better prepare our students for their external exams, our school derived grade exams will operate from 26 October to 1 November. These exams are an excellent preparation opportunity for the official exams, help to decide first in class placings and may also be used as derived grades should a student be unable to complete the official exams.

Senior Prizegiving:
Our end-of-year senior prizegiving is now scheduled for Thursday 18 November. This will be a wonderful opportunity to acknowledge our top academic students and to farewell our Year 13 students. This will also be the last day of formal classes for our senior students.

Junior Prizegiving:
This event will take place on the last day of school, Tuesday 14 December. We look forward to celebrating our incredible young people at this event.

Sports Prizegiving:
We will also celebrate our sports people at our annual Sports Prizegiving on Thursday 11 November in the afternoon. More information will be posted closer to the event.

Contact:
If you have any subject related questions, please email your student's subject teachers. If you have any pastoral concerns, please email your student's tutor or dean. For any other concerns, please contact Mrs Manu, deputy principal pastoral, at [email protected] or Mr English, deputy principal curriculum, at [email protected] Please note that the email addresses of all teachers are written in the same manner as the two previously listed: Teacher's first name and initial of their [email protected]

Thank you for all you are doing to keep our taonga, your children, safe and happy during this time. We know it is difficult and will make every effort to support our students now and when they return to school.


Nga mihi nui
The Tokoroa High School Leadership Team.
Google Classroom codes for students: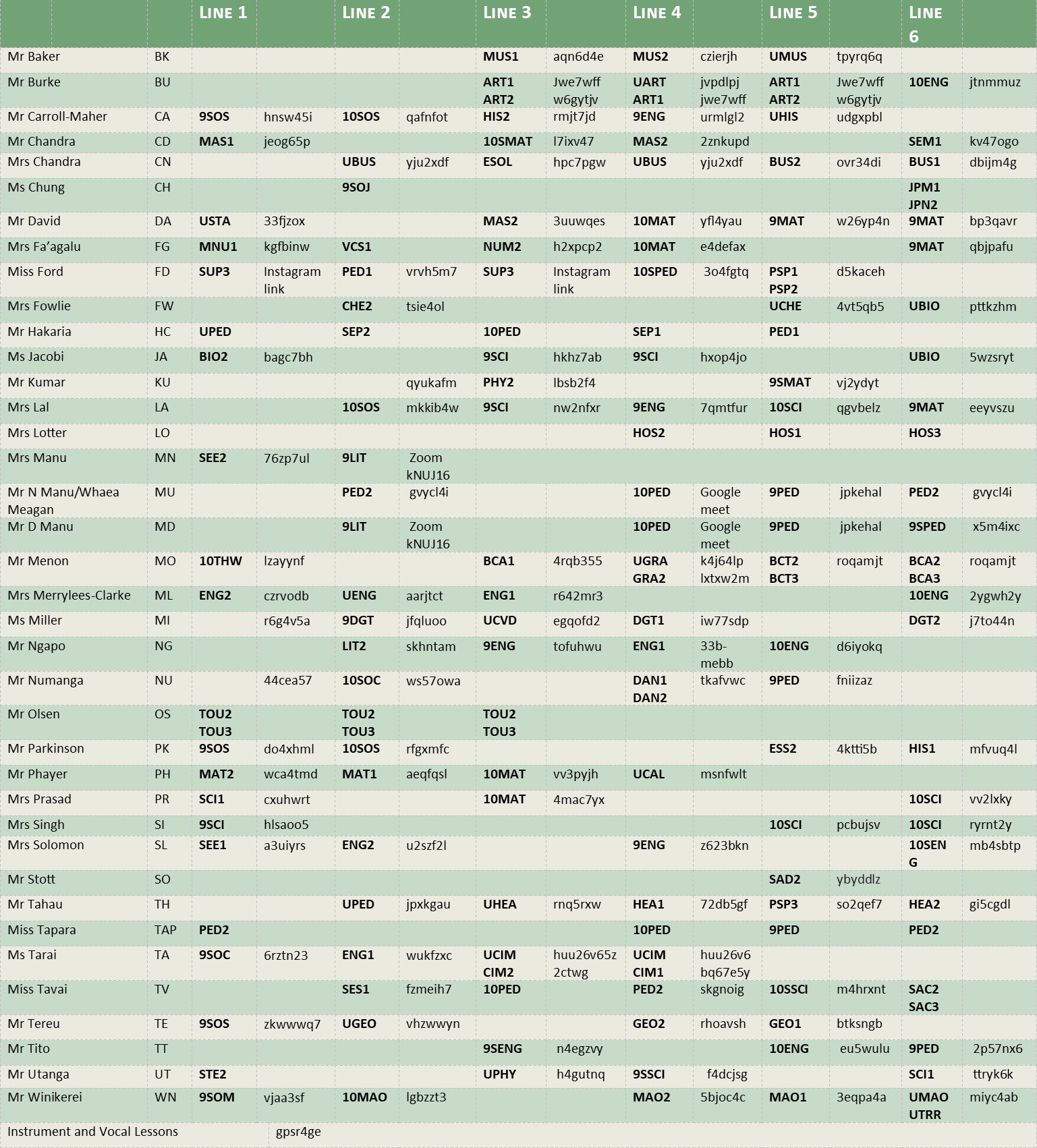 Junior students can also access Education Perfect.
https://www.educationperfect.com/
Each student has their own personal log-on details and is able to access this at any time.
While face-to-face classroom learning remains the predominant way in which students learn, we supplement this with an online programme that allows students to progress at their own rate. All teachers have set up google classrooms with learning resources available to compliment classroom work. Alongside this, a lot of teachers are using Education Perfect and Classroom 2020. The benefits of having learning resources available online are many. Not only can students set their own pace of learning but also it is reassuring to many students that classroom notes and exercises are always available to catch up in the event of absence from school.
Should we have the need to go into a lockdown situation, online learning will become the main way we can make sure that students learning is not unduly interrupted.